Terms &
Conditions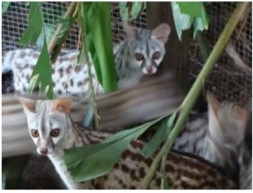 All Customers are Advised that all Mammals, Birds, & Reptiles are bought at purchaser's risk.
No Exchanges or Refunds.
Live arrival guarantee only on all shipments sent airport to airport.
No live arrival guarantee for shipments that are delayed or mishandled by the airlines.
All animals must be picked-up within 2 hours of arrival. If not, live arrival guarantee is void.
We do not guarantee any live arrivals on any shipments to areas below 60° F or above 90° F.
We are not responsible for additional charges on freight for replacement of animals.
You must make all claims within 24 hours of arrival of the animals by leaving a message with the exact reason for your phone call at 239.774.5031.
All shipments are sent airport to airport with charges starting from $200.00 and up based on weight and boxes used.
Health certificates are an extra cost.
PAYPAL: When using PayPal there is a 3% handling fee added to the final total.
When using PayPal you are agreeing to these terms.